The original Half-Life turns 25 years old on November 19. That's a big milestone! It's an anniversary worth celebrating. And after some behind-the-scenes shenanigans, Valve has updated its historic first game to be perfectly playable on Steam Deck and added a bunch more to the classic game. Oh, and it's now totally free on Steam (for a limited time).
The Top 10 Most-Played Games On Steam Deck: June 2023 Edition
It's hard to believe, well for some of us at least, that Valve's first video game, Half-Life—an incredibly influential and fantastic first-person shooter—is turning 25 years old this month. It feels like just yesterday I was a young lad climbing through vents and killing headcrabs with a crowbar inside a secret, underground research facility filled with deadly aliens and dangerous soldiers. How time flies! And Valve didn't forget about its first game's big anniversary, releasing a massive update for the classic shooter today.
Half-Life's new update adds a lot
As documented on a swanky new website from Valve, Half-Life's 25th anniversary update is now available on Steam and this is more than just a small patch to fix a few bugs. (Though it does fix some old bugs and issues, too.)
The big news is that Valve has done the work and made Half-Life verified and totally playable on Steam Deck. The game now features improved controls and UI for Steam Deck and controllers, making it easier than ever to replay Half-Life in 2023.
Valve has also added new graphic and rendering options, including software rendering on Linux and widescreen field of view. It has also changed the game to default to the original models and not the HD ones seen in the expansions, a good change in my opinion. (The Glock and MP5 are cooler than the Beretta and M16!)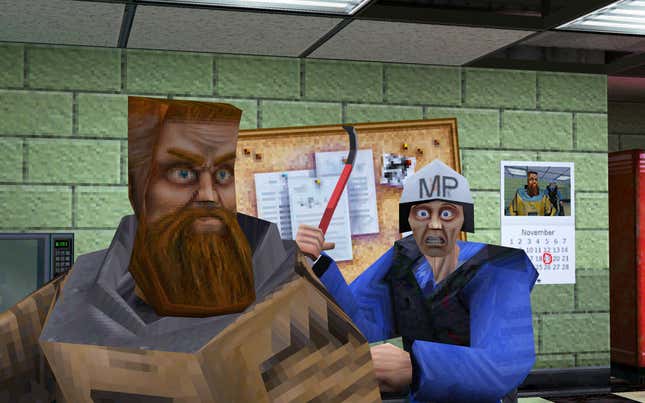 That's not all! Valve has added new multiplayer maps to Half-Life—including three completely new ones that push the classic game engine to its limits—as well as some old content that didn't ship with the original game, like the completely unique Half-Life: Uplink demo. Some original character models from pre-release Half-Life builds are also now available in multiplayer, too. 
The full patch notes are quite long and cover almost every part of the game. Valve even went in and rebalanced some of the multiplayer weapons. This is a very comprehensive and impressive update. Even better: If you hate any or all of these changes, Valve has archived the old Half-Life that was on Steam before this big patch, so folks can still play that version as needed. This will be useful for some mods that might not play nice with the new build.
Earlier leaks pointed to a big Half-Life update
Before this big new patch making the game perfectly perfectly playable on Steam Deck and adding new or cut content, there had been signs something was coming. Over the last few weeks, people spotted tiny, unannounced updates being released for Half-Life on Steam. Some of these updates appeared to be adding a new build of the game.
Then things got even weirder on November 16. That's when the original Half-Life was made free on Steam for a short amount of time before Valve seemingly reversed the mistake. Now it's free again until November 20.
I recommend checking out Valve's new Half-Life 25th anniversary website, as it details all the changes that are now live in the popular shooter. Plus Valve has created an hour-long documentary bringing back devs who worked on the game to talk about what it was like making the beloved FPS. Oh, and you should scroll to the bottom and click on the crowbar. Trust me.
Half-Life is currently free on Steam until November 20. The entire franchise is also on sale, too.
 .