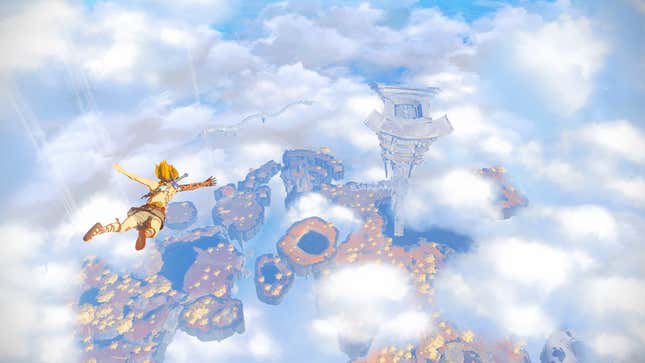 So much of The Legend of Zelda: Tears of the Kingdom is spent jumping between Hyrule's landscape and the floating islands above it that I can't fathom somehow beating the game without traversing both the sky regions and Hyrule proper. But that's exactly what one player miraculously managed to pull off.
Tears Of The Kingdom's Newspaper Questline And The State Of Hyrulean Journalism
TotK subreddit user Black_Hand_Gotthard shared a post (h/t Polygon) with a screenshot of both the ending cutscene and a map of the game's sky layer filled out with all of the airborne fast-travel points, proving that they did indeed complete the game without visiting the surface of Hyrule. They responded to questions about how they pulled this off, and it sounds like they used a lot of the Zonai tech that gives you navigation tools like gliders to move through the air or rockets that propel you up higher. But it also sounds like the game's highly popular makeshift hoverbike came in handy as well.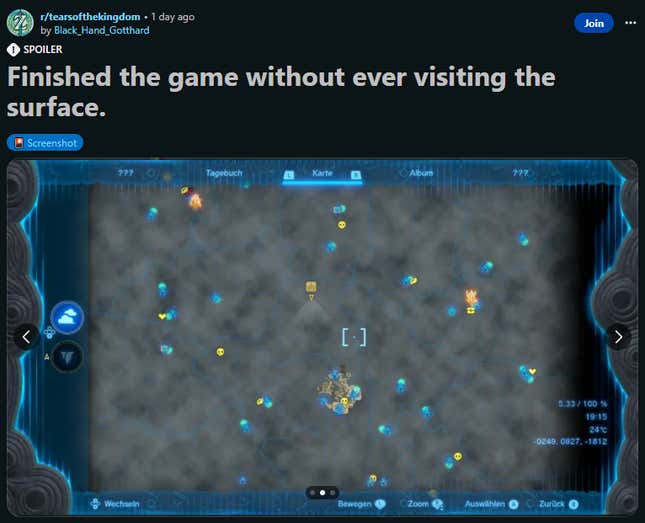 So yeah, in theory, you could get around in Tears of the Kingdom without touching the ground for several hours. However, beating the game does require you to go down to the surface…but not necessarily touching down on Hyrule's ground.
Spoilers for Tears of the Kingdom follow.
The final boss fight against Ganondorf takes place underneath the floating Hyrule Castle. Reaching this area would usually require something like the paraglider, which you have to go to the surface to get, but Black_Hand_Gotthard says they were able to survive by using fairies, which will revive Link should he lose all his health. Barreling from the sky islands to the core of Hyrule—bypassing the surface entirely—is nothing when you've got a little magical person stashed in a bottle in your pocket.
All of this is made possible by Tears of the Kingdom's open structure, which doesn't really require you to do anything specific at any time after you pass the prologue. That freedom means you can easily miss things like the paraglider that are ostensibly on the main path because you can simply fuck off and do other things.
Tears of the Kingdom has been out since May, and I'm still fascinated at how people are finding new ways to play it. It's a shame we're not getting DLC, because adding new toys and tools would no doubt give the community yet more oft-strange, definitely fascinating new ideas.
Buy The Legend of Zelda: Tears of the Kingdom: Amazon | Best Buy | GameStop
.