Share.
Looking to snag a Nintendo Switch bundle deal on the cheap?
The Nintendo Switch has notoriously held its value since its release, bar Black Friday when Amazon reduced it to £249. If you're one of those that are looking to get a Nintendo Switch on the cheap but didn't jump in on the Black Friday deal, you've come to the right place.
I've highlighted my picks on what I feel are the best and cheapest Nintendo Switch bundles, games and accessories below (updated weekly). It's good to note that Nintendo Switch bundle deals right now aren't as good as they are in promotional periods such as Black Friday, but if you can't wait to get your hands on one, then these deals are currently your best bet.
Best Cheap Nintendo Switch Bundle Deals Right Now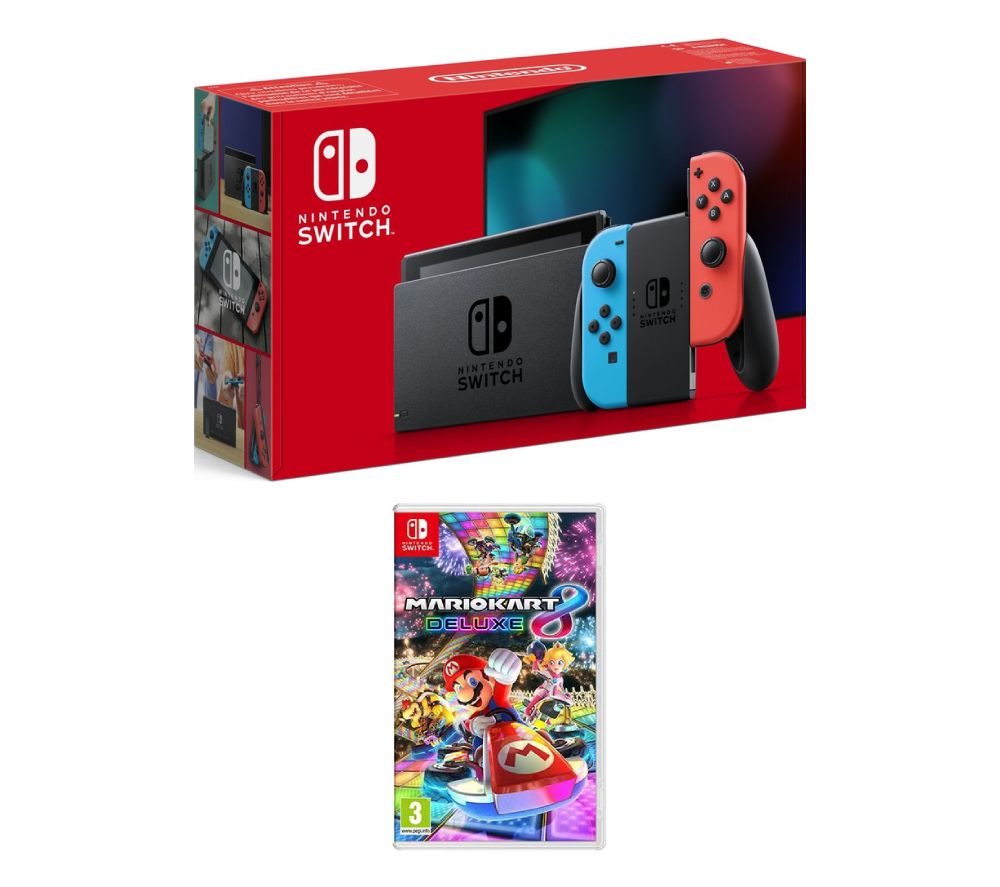 Nintendo Switch Mario Kart 8 Deluxe Bundle
Saving over £30, Currys PC World has reduced the asking price for one of the most popular bundles sold on the Switch. Why's it so popular? Because it includes the hit game that is Mario Kart 8 Deluxe which got rated an Amazing 9.3/10 on our review.
More Bundle Deals
Nintendo Switch with Nintendo Switch Online
The Best Nintendo Switch Online Bundle Deal
Since Fortnite is pre-installed digitally into every Switch console, many people tend to pick up the console just by itself. It's important to note that while you can play Fortnite, you'll only be able to enjoy a 7-day free trial of the Nintendo Switch Online paid membership service. After that you will be in the dark and will not be able to play Fortnite online, which is of course, the best way to enjoy the game. That's why if you are looking to get the Switch and play Fortnite online, it's worth getting the Switch bundled with Nintendo Switch Online.
Build Your Own Bundle at the Official Nintendo Online Store
There's also the option of building your own bundle from the official Nintendo Store. For £329.99 you can get either the Grey or Neon Nintendo Switch with your preferred choice of case and game. There's a wide variety of games to choose from including the new Pokémon's, Zelda: Breath of the Wild, all the Super Mario games and more. Bundling these up together will save you up to £25 depending on your game of choice.
Best Standalone Nintendo Switch Deal
If you have a friend that is willing to lend you their games or are wanting to pick up additional accessories by yourself, then buying a standalone Nintendo Switch is the best way to go about your purchase. When first released, the Nintendo Switch price started at £279.99. As mentioned, the console has notoriously held its value so you'll be hard-pressed to find the standalone Nintendo Switch reduced by much.
Nintendo Pro Controller Deal
I cannot recommend the Nintendo Switch Pro Controller enough. I have one myself and I find it vastly improves my gaming experience on the Switch. When it was first released, the list price was £69.99, but has since reduced over time and is now priced at £54.99.
Best Nintendo Switch Game Deals
Much like the Switch, the games are also holding their value. Nevertheless, I've scoured the web to find you the best deals on the most popular games:
Nintendo Switch Case and Screen Protector
It's always wise to keep your precious belongings clean and safe from any damage. Buy this case and LCD screen protector from ShopTo and save over £5.
If you buy something through this post, IGN may get a share of the sale. For more, read our Terms of Use.