Share.
Guilds, leaderboards, a limited-time world event, a new Stronghold, and more.
The first details on Anthem's post-launch and endgame content have been revealed.
On Twitter, Anthem Lead Producer Ben Irving revealed details on the post-launch content release schedule for Anthem, which will include the continuation of Anthem's story, the addition of guilds and leaderboards, an expanded progression system, new missions, events, and difficulty settings, and more. A full breakdown is available on the official Anthem Endgame site.
According to Irving, Anthem's post-campaign narrative will kick off with a March 2019 update called "Act 1: Echoes of Reality," with Act 2 and Act 3 to be detailed at a later date.
The Echoes of Reality update will include several key features, including a new Cataclysm event, a new Stronghold for players to conquer, and some quality of life improvements.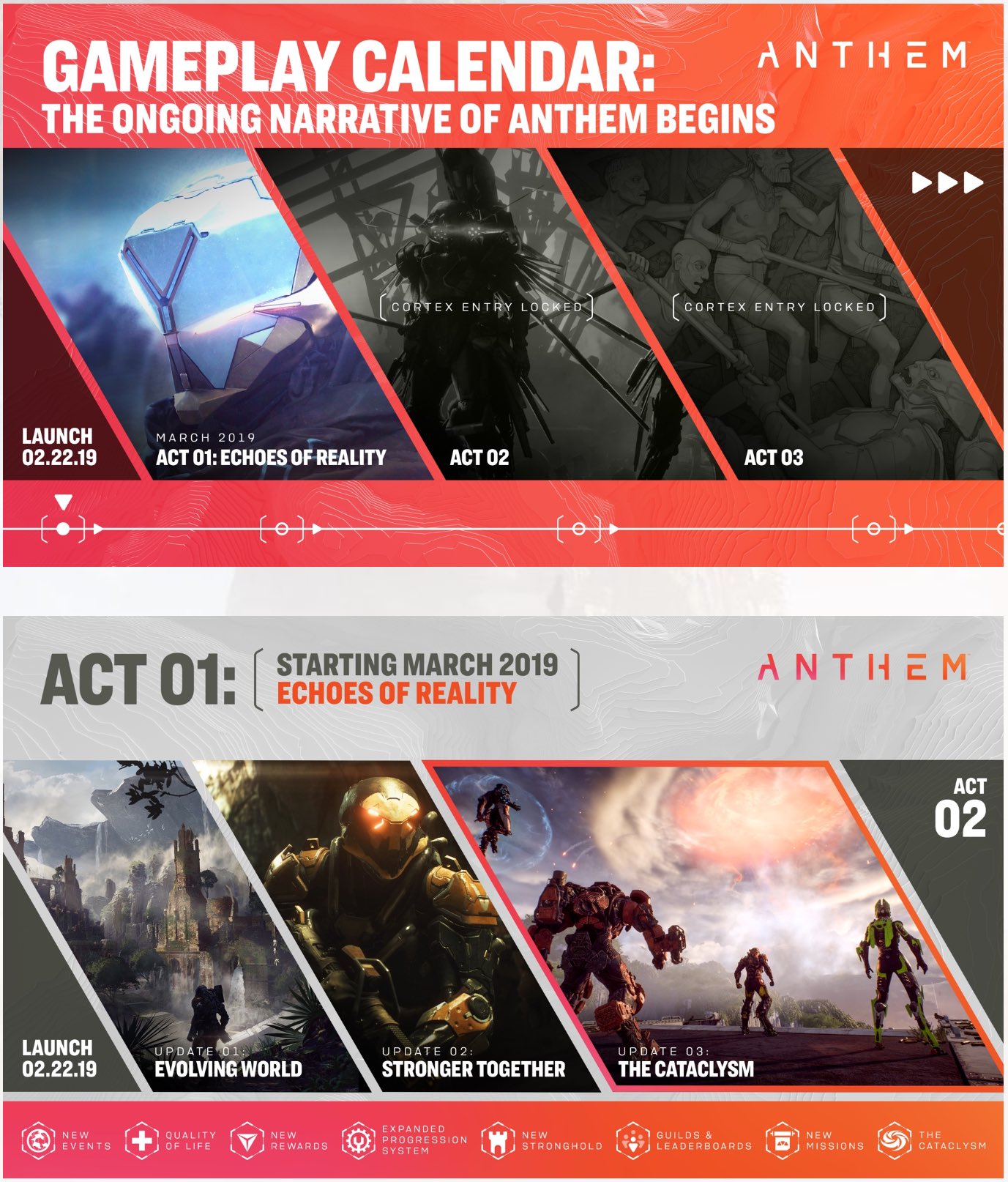 Once players have completed the campaign, they will be able to dig their teeth into Challenges, Contracts, Freeplay, and Strongholds, which will comprise a large part of Anthem's endgame.
Challenges will be available on a daily, weekly, and even monthly basis, giving players several ways to obtain crafting materials and currency. Legendary Contracts will also be made available for players hungry for more difficult, multi-part adventures.
Strongholds represent some of the longest and most difficult challenges in Anthem, and players will need to assemble a team to tackle them.
Also central to Anthem's endgame are Cataclysms; limited-time world events which will alter the world and introduce various hazards including powerful creatures and extreme weather. Contracts will allow players to increase their reputation with different factions, granting them access to crafting blueprints.
For more on Anthem, be sure to check out a breakdown of what Anthem's Endgame content will look like from a gameplay perspective, as well as 10 minutes of a Legendary Contract on Anthem's challenging Grandmaster I difficulty. Anthem comes to PlayStation 4, Xbox One, and PC on Feb. 22.
Brian Barnett is an IGN freelance news/features/wiki guides writer. You can get your fix of Brian on Twitter (@Ribnax), The Platformers (video game podcast), and Hooray For Anime! (anime watch-along podcast)